SKIDOMPHA VOLUNTEERS
Skidompha Library is extraordinarily thankful for our more than 100 volunteers who contribute over 10,000 hours each year!  Thank you to those already involved, we could not do what we do without you.
If you're interested in becoming a volunteer, contact us, stop by for more information, or fill out our online Skidompha Library Volunteer Application form.
SKIDOMPHA STAFF
Matthew Graff, Executive Director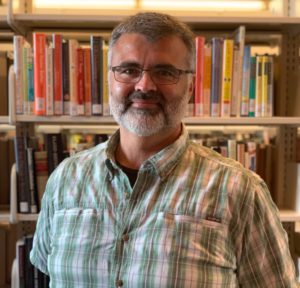 Matthew's journey started on Long Island, New York where he enjoyed playing in, on, and under the Long Island Sound and Atlantic Ocean. Time passed, as time does, and Matthew graduated from Long Island University, Southampton with his BA. A JD from Franklin Pierce Law Center followed soon after, along with a job as a lobbyist. But the ocean and Sound beckoned him back, and he eventually joined the New York Department of Environmental Conservation and traded his suit, tie, and desk for a pair of waders and a boat, and an office on the water. Books eventually took precedence, setting Matthew towards his MLIS from Syracuse University and a position as the Director of the Cohoes Public Library in Cohoes, NY. Matthew lives in Newcastle and is excited to be to be part of the extraordinary Skidompha team.
Carrie Branson, Director of Development
Carrie comes to Skidompha with a background in education and having spent the last several years leading a public charter school in mid-coast Maine. With a M.A. in Organizational Management from Antioch University New England, she has had a rich variety of professional experiences from Massachusetts to DC to Maine building strong communities, supporting literacy education, and ensuring free access to news and information for all people. She is thrilled to join the Skidompha team to continue this work! Carrie lives in Newcastle with her Husband David, their three children, and their saint bernard Martha Mae, who insists she is a lap dog.
Kelsey Gibbs, Director of Communications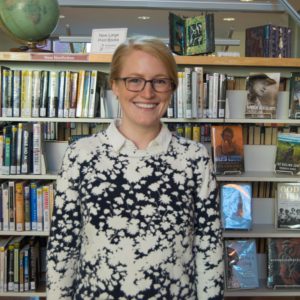 Kelsey is passionate about the art of clear communication; her goal is to tell the world about all of the incredible goings-on at Skidompha Library. Throughout the course of her career, she has applied her skillset to graphic design, arts education, public relations, project management, and social media consulting. Kelsey holds a B.A. in Cultural Anthropology and Art from Colby College and spends her free time digging in her garden with her husband Matt. 
Emily Meader, Development Associate
 Emily eats a banana every day at 11:30 a.m. sharp.
Adult Services
Contact any of our adult services librarians.
Terry Hapach, Head Librarian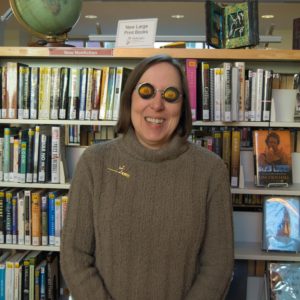 Back in Ohio, many years ago, Terry was often found waiting impatiently for the library doors to open. When she was offered a part-time job there after school, she loved it so much it became a career that lasted over 30 years. Then one crazy vacation day she and her husband took a different route on the way to the Erie Zoo – and ended up in Maine.  To live here on a more permanent basis, she retired. Or so she thought. A volunteer stint turned into employment and she's now pleased to be helping to continue the development of an awesome library full of wonderful people. Terry is also a frequent contributor to Owl Radio podcasts.
Yvonne Lamoreaux, Adult Services Librarian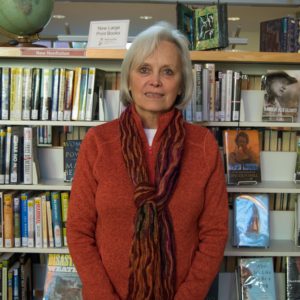 If variety is the spice of life then Yvonne's background is as interesting as many of our best novels.  Born in Denver and living in many large cities throughout the U.S., she and her husband retired to rural Jefferson and, with their treasured Westies, have adapted thoroughly.  She had a variety of occupations from cutting hair in Hollywood, to working as an investigator for the Attorney General's Office in Boston.  Since retiring, she took up the hobby of quilting and has won several state awards.  Yvonne started as a volunteer and joined our staff in 2009 Skidompha.  She thanks the library for making many great friendships.
Rachel Zoller, Adult Services Librarian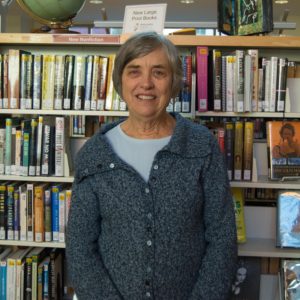 Rachel has been working in the adult section of the library since 2007 after 40 years of teaching. She is responsible for interlibrary loans, large print, and those dreaded overdue and bill notices. Rachel created a "Traveling Books" program to deliver library materials to our homebound patrons. Rachel lives in Newcastle with her husband, Jay. She is a docent at the Farnsworth Museum, programs music for the Music and Memory Program at Coves Edge where she volunteers each week. She and Jay enjoy traveling, being with their 8 grandchildren, gardening, and especially reading. And, she loves chatting with people about their reading!
Jeannette Eaton, Adult Services Librarian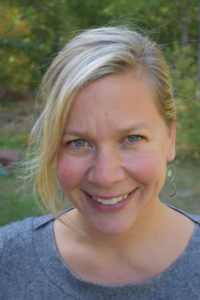 Jeannette is most comfortable and content when surrounded by books, or making piles of things to read next. With a graduate degree in writing for social change, she has spent the last two decades devoted to nonprofit work, where her passion has been connecting and contributing to her community. She runs her own business, Paper Trail Creative Writing Workshops, is a teaching artist with The Telling Room, and is in a two-year mindfulness teacher training program. The things Jeannette loves best in life are her family, being in water, writing, and books—especially the books that keep her up way too late. She loves living in Alna with her husband and two kiddos, and is thrilled to be joining the staff at Skidompha.
Pat Carmolli, Adult Services Librarian 
Pat is a retired teacher who applied for a job at the library on a whim. And she's really glad she did! In addition to her Saturday library duties, Pat teaches a crochet class at the Boothbay Harbor Community Center and owns a seasonal business in Boothbay Harbor.
Genealogy
Kathy Maclachlan, Staff Genealogist
Kathy's love affair with libraries goes back to childhood in Syracuse, New York when she would bike to the neighborhood library weekly to check out the maximum ration of books allowed, usually mysteries and biographies. Coming to Lincoln County in 1988 she was thrilled to discover Skidompha, a library with the same warmth and welcome. Over the years, she's enjoyed volunteering and later working on staff for a summer with our Youth Services. Since May 2012, she's been back as the Genealogist, helping folks with their own research and introducing newcomers to the fun of family history, something she's enjoyed for nearly 40 years. When she's not working at the library, she's likely traveling with her husband, Steve, to do genealogical research or to visit children and grandchildren. At home, they can be found in the company of their black labs, out walking, or curled up by the woodstove with books.
Youth Services
Jessie Trafton, Children's Librarian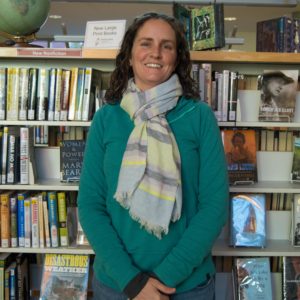 Jessie joined the library as a volunteer in 2014 and joined the staff a year later. She transitioned to the Children's room in February, 2019. Jessie has a background in the biological sciences but has found her true love working at Skidompha. She reads a bit of everything, but really enjoys non-fiction, fantasy, and science fiction. Jessie moved to Newcastle in 2012 with her wife, Anna, and they enjoy birding, homesteading, walking in the woods, reading, playing cribbage, and chasing after their young kids.
Sophie Gagnon, Teen Librarian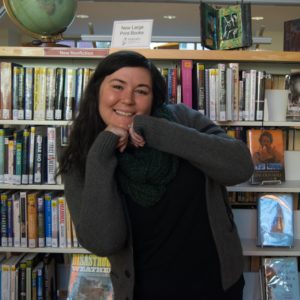 Sophie is the Teen Librarian at Skidompha Library. She brings her good sense of humor, passion for science fiction, and fantasy literature to the library on a daily basis. Check out the Young Adult section (in the atrium of Skidompha) to see the good work Sophie does to ensure that young people in our area have an excellent and varied selection of materials to choose from. She also runs programming for teens and is responsible for stocking the free food cupboard (sponsored by Rising Tide Community Market!)
Brooks Sharp, Children's Librarian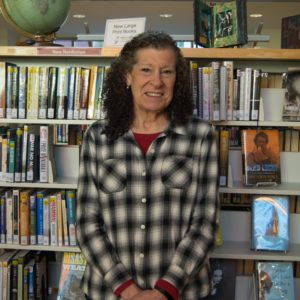 Brooks holds down the Children's Section of the Library on Saturdays. She loves providing book recommendations and chatting with young readers.
Pam Gormley, Executive Director Emeritus
Born and raised in the Bronx and a proud Yankees fan, Pam came to Maine with her family, Mal, Katie, and Quinn in 1994. Before making the move to the best place on earth, Pam worked for Reader's Digest for 23 years. "Being the Director of Skidompha was the best job ever!" says Pam. "I worked with the smartest, most competent, and creative people ever. It was thrilling to be part of the national award winning team at Skidompha!"