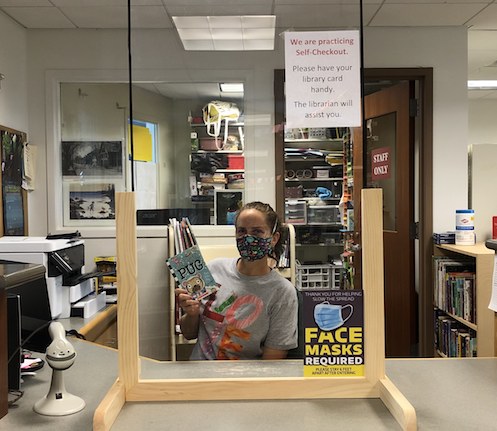 Jessie, the Skidompha Children's Librarian, models her face mask and demonstrates what to expect when you visit our checkout desk. We hope to see you when you are ready to visit.
Library Hours – As of August 14, 2020
Skidompha is open for browsing:
Tuesdays, Wednesdays, Fridays, and Saturdays from 10 a.m. to 1 p.m.
Skidompha will be open for curbside pickup:
Tuesdays, Wednesdays, and Fridays from 10 a.m. to 6 p.m.
Saturdays from 10 a.m. to 1 p.m.
Services Available During Limited Reopening
We will be open for browsing and borrowing from our media collection, as well as photocopying, scanning, and faxing services.
Our bathrooms are closed to the public at this time.
We miss having you in the library, but we ask that you do not linger while visiting with us.
We cannot offer workspace, in-library reading, meeting space, or any in-person programming at this time.
Safety Guidelines for Your Visit
We ask that all visitors to the library enter through our back door (on Elm Street).
All visitors will be asked to exit through the front door (Main Street).
All visitors (above the age of two) must wear a mask to enter the library and will be asked to sanitize their hands upon entry.
We ask that you stay home if you have been feeling unwell, have any symptoms of Covid-19, or have recently traveled.
If you cannot or will not wear a mask, we will be happy to assist you through our curbside pickup program.
Ten visitors will be allowed into the library at a time. (You will be asked to wait outside until there is space to admit you.)
All visitors will be asked to limit their visit to 30 minutes or less.
One family or household is allowed into the Children's area at a time.
Please continue to use our book drops for all returned items. We cannot accept returns inside the library.
We are grateful to you for your effort to uphold these guidelines and keep our community healthy. We will kindly ask patrons who cannot comply with these rules to leave the library.