A Recent Art Display at The Carey Art Gallery at Skidompha.
Thanks to Skidompha staffer Rachel Zoller for supporting art and local artists! Rachel shares her love of art with our community, and often points us in new directions, helping us see the art we would have otherwise missed.
Shared Show
"When I was invited to show my work at the library, I thought, Maine is blessed with so many extraordinary artists, why not share this space with some of them, too!
Enjoy our Shared Show!" Daisy Green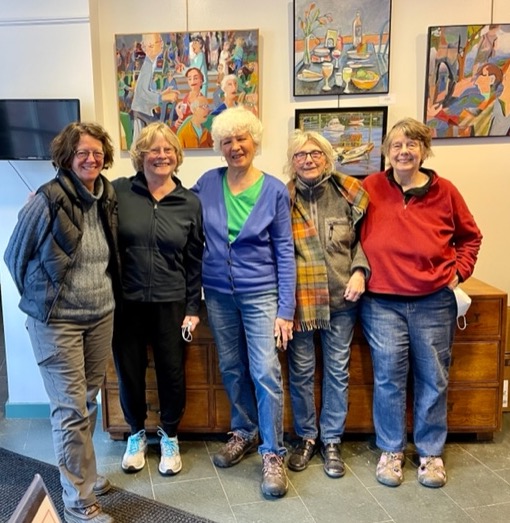 DAISY GREENE
Art teacher Daisy Greene has had thirty years of painting Maine. She has shown widely. Her paintings vary from whimsy to capturing the essence of the Maine landscape. Her work graces many private homes and in our very own Miles Hospital. You likely have been looking at some of them!
KERRY HALLGREN RODRIGUEZ
Kerry Rodriguez, who moved to Maine in 2004, has worked as a graphic designer and as an art teacher in different states. Having a longtime interest in different cultures, she has connected to the people of several countries, including Sweden, Spain, Ecuador, and the Inuit Territory of Nunavut in the Eastern Canadian Arctic. She works in the mediums of printmaking, drawing, and painting, often combining all three in one image.
MARY G. WINKES
I find it difficult to describe the pleasure I feel when I paint or draw or make any artwork. I love the peace and calm I feel when I can escape into the process of playing with color, shape, and texture. I like to imagine a conversation between them. I grew up on a tidal river in Rhode Island and studied painting at the School of the Boston Museum of Fine Arts. My husband and I raised our two girls in Providence. Fifteen years ago we moved to Maine and live on another beautiful tidal river. I am very grateful to be able to paint full-time in Damariscotta with the beauty of Maine all around me. marygwinkes.com
SARAH FISHER
Sarah Fisher has been pleased to focus on creating her own art since her retirement to Damariscotta with her husband 10 years ago. Her career as a fine art museum painting conservator gave her deep familiarity with the great masterworks of painting plus a skilled knowledge of pigments, painting techniques and materials, providing a perfect framework for her own creative work. She paints in watercolor and oil, delighting in the unique qualities of each. Recently she is experimenting with a more abstract, so-called "wonky" style, emerging from the interactions she senses among the buildings and landscapes in familiar locations speaking to her as she walks around our area.
ALICE KIRKPATRICK
I am drawn to paint quiet places, often interiors, that reveal the human spirit and evoke memories and human connections. Whatever the subject, it is the magical quality of light, and its power to move us, that inspires me most. I received my BFA in Art from Colby College and have pursued workshops and courses at Maine College of Art and Haystack Mountain School of Crafts, among others. I maintain a studio at my home in Pownal, but love to hunker down at our cabin on the Damariscotta River and just watch the light at play! alicekirkpatrick.com